Buy now
(+84) 961 430 111-(+84) 327 247 111
Highlights of Mirror art venus
Mirror art venus
The vennus art mirror is one of the top suggested models for classical architectural spaces With its unique designs, colors and designs, the venus art mirror is one of the top suitable examples for for classical architectural spaces. This product is suitable for decoration in the living room, bedroom, bathroom, ... as both a useful household item and an art ornament.
Material structure of the venus mirror art
The mirror is made imported plastic mirror billet, meeting high quality standards, so it has remarkable durability and certainty. Mirrors can withstand different climatic conditions, weather as well as temperature.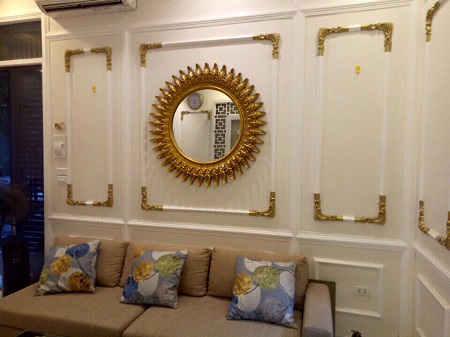 Art classic mirror Venus
Design characteristics of venus art mirrors
The design of the mirror is quite simple, but does not create a monotonous or boring feeling for the space. On the contrary, this artistic model is also an artistic decoration and can be applied in different architectural spaces.
The mirror has a plump round shape. On the outside border are the unique and beautiful vertical patterns and patterns. The inner part of the bezel is a cleverly coated mirror layer.
The combination of yellow - white colors with soft and flexible patterns and patterns has contributed to highlighting the aesthetics of the product in the most impressive way.
Meaning of vennus art mirror
This product model is chosen by a large number of customers not only because of its quality, aesthetics, but also by its extremely deep symbolic meanings. Helios was originally the name of a god in Greek mythology. This god represents the light of truth and good human morals in life. There is a mirror art venus in the house makes the space in your room become bright.
If you are in need of owning the aforementioned venus mirror art model for your living space, please contact Navado for advice and order as soon as possible.
| | |
| --- | --- |
| Price range: | 500$ - 1000$ |