Buy now
(+84) 961 430 111-(+84) 327 247 111
Highlights of PROSS CLASSIC MIRROR
PROSS CLASSIC MIRROR
Neoclassical Pross mirror is a unique, artistic mirror for large, luxurious rooms such as living room, dining room, bedroom, living room.
1. How to choose to buy neoclassical decorative mirrors
Neoclassical decorative mirrors often have basic, traditional shapes such as circles or squares. The highlight of the mirror on the edge of the mirror is often added with sophisticated European-style motifs. These motifs are deeply influenced by the Greek and Roman art schools, so they are highly symbolic, bringing a sense of nobility and elegance of famous palaces and temples in the world.
Neoclassical mirror colors are usually bronze gold, antique silver color, will be very suitable when combined with brown, beige, gray, cream or neutral, bright colors.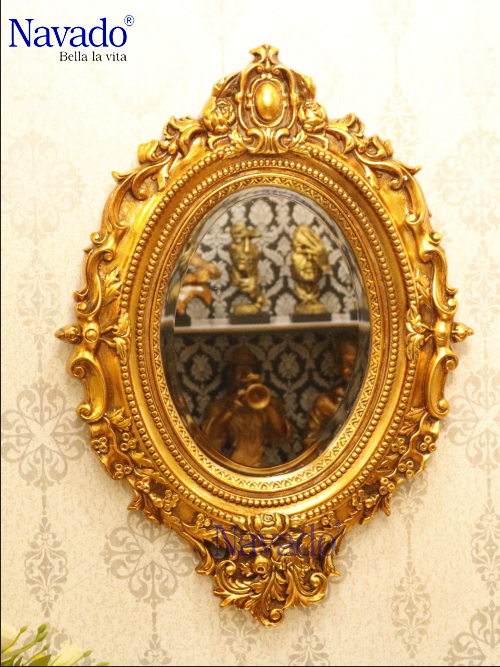 To buy beautiful neoclassical decorative mirrors, you should also pay attention to mirrors that have shiny, transparent colors and textures made dust-proof material for easy cleaning, cleaning, and umbrella mirrors. in a long time, it will not be old, must be stained due to the impact of the environment.
2. Pross neoclassical mirror product of NAVADO
Famous for its line of decorative mirrors made high-end Belgian AGC mirrors, the neoclassical Pross mirror, although newly launched, has been well received by customers.
Pross decorative mirror for living room, bedroom, dining room with large area. Mirror size 900 x 900 x 40 mm with a traditional circle with noble bronze gold rim. The mirror reminds us of the extravagant and beautiful art objects in European galleries.
| | |
| --- | --- |
| Price range: | 500$ - 1000$ |