Buy now
(+84) 961 430 111-(+84) 327 247 111
Highlights of Mirror flower art Gerbera
Mirror flower art Gerbera
The flower art mirror is one of the accessories you can use to make the living space more sparkling. The art mirror is inspired by the beauty of the rose, expressing the serene, gentle beauty. Great choice for simple style home spaces, soft accents on the wall, bedroom, living room, hall.
Mirror size 800 x 800 x 5mm, 900 x 900 x 5mm. The product can be ordered according to the required size, the product is made of moisture-resistant MDF wood, the mirror is a mirror billet. Research and learn about our selection of the best materials to make the product as desired.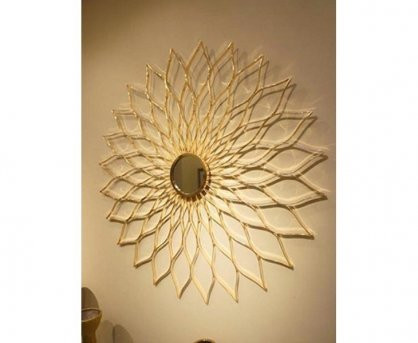 Gerbara flower mirror decorate house
Where are the benefits of buying flower art mirrors? Why do many people prefer to use mirrors to beautify their home?
Decorative mirrors are a part of the interior of modern homes because of its versatility. Why do you need to buy interior mirrors? and some note when choosing to buy mirrors.
Why should buy interior mirror?
Houses in big cities often do not have a large area, so when interior decoration, architects often use measures to create the feeling of the house larger and more airy. Decorative mirrors are an important part of these measures. Buying an interior mirror is not simply using it for the purpose of reflecting on yourself, but rather creating an impressive, unique house. Gradually, mirrors have become an integral part of indoor interior design. When the living room, kitchen or bedroom has an extra mirror, the sense of space in the room is larger, and there is more aesthetics.
| | |
| --- | --- |
| Price range: | 500$ - 1000$ |