Buy now
(+84) 961 430 111-(+84) 327 247 111
Highlights of MANUFACTURING KARAPUL ART WALL MIRROR
MANUFACTURING KARAPUL ART WALL MIRROR
Like a glass flower, KARAPUL art wall mirror gives your living space an impressive romance, femininity, vitality, and novelty.
1-Producing KARAPUL wall-art mirrors to meet the needs of modern interior decoration
Wall mirror has long been no longer a mirror just to see yourself, to beautify and optimize the space. Today, people often choose to buy beautiful art wall mirrors. With only one product that has 2 important functions: "deceive" the vision of the space and is a highly artistic decoration item.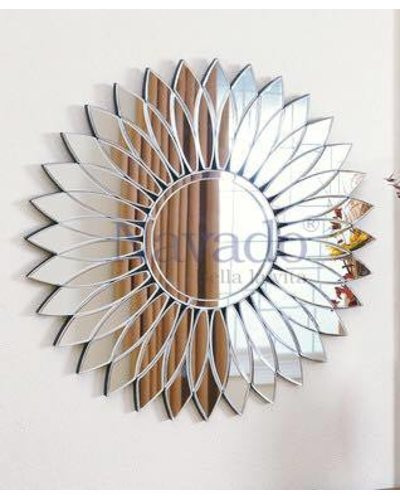 Understanding the needs of modern home decor, NAVADO produces KARAPUL art wall mirrors. The chrysanthemum-shaped mirror is made of many small pieces of mirror, finely honed, meticulously and soft as real petals. It would be hard to believe that those chrysanthemum petals are made of 8-layer silver coated glass material, to give a mirror that is both aesthetically pleasing and premium in material.
2-Choose a high-end KARAPUL wall mirror to have a luxurious and classy living space
KARAPUL art wall mirror is made high quality Belgian AGC mirror material. Mirror material is produced on the most advanced modern technology in Europe, meeting the rigorous standards of AGC (Belgium).
The outstanding feature is that the mirror is resistant to bad agents the environment (dust, mold, strong impact, ...). So even if using the mirror for a long time, the KARAPUL wall mirror still retains the transparent color, the beauty as new.
NAVADO produces KARAPUL wall mirrors, which are sold at a leading competitive price in the market. Buy KARAPUL wall-mounted interior mirror, please contact the hotline for product information: 0971985798 or 0961 430 111
| | |
| --- | --- |
| Price range: | 500$ - 1000$ |