Buy now
(+84) 961 430 111-(+84) 327 247 111
Highlights of LED MIRROR HAVE INOX FRAME WALL BATHROOM
LED MIRROR HAVE INOX FRAME WALL BATHROOM
LED bathroom mirror is the most popular bathroom accessory today. Now has been manipulated more impressively, more firmly thanks to the stainless steel frame. Stainless steel framed bathroom mirror with LED light is the product you are looking for?
1. Stainless steel LED bathroom mirror exudes luxury
The bathroom mirror is something you use every day. Mirrors not only help women make makeup easily but also are useful items for you to refine their appearance before going out, thereby helping you to become much more confident. A good bathroom mirror is not only a mirror for a good and authentic image, but also a mirror that shows the host's personality, style and aesthetic taste.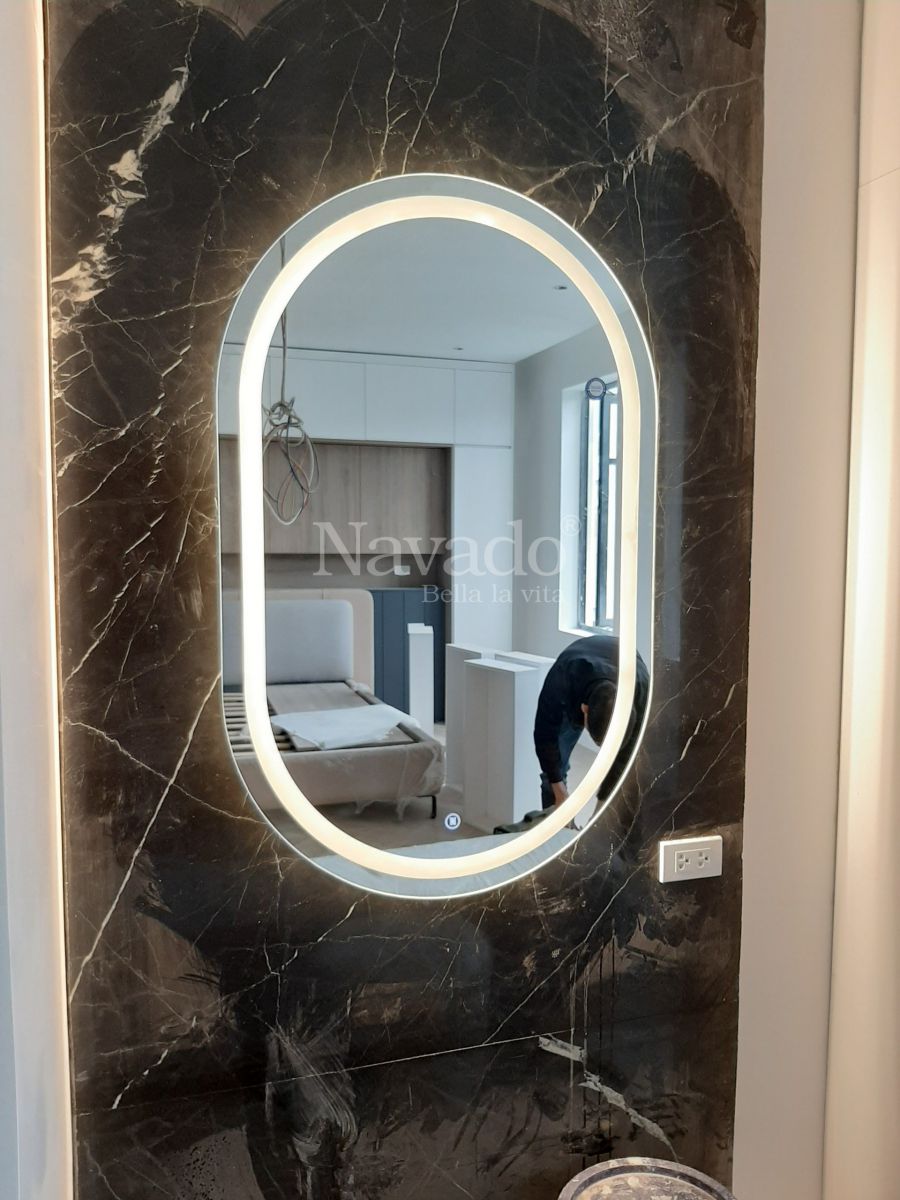 Wall bathroom led inox mirror
The stainless steel bathroom mirror with LED lights will help you have a realistic image, natural light is easy to use and the stainless steel frame helps the mirror increase the certainty and aesthetics.
Choosing to buy bathroom mirror, you do not pay attention only to quality factors. A mirror made of a good material is of course essential, but you should not ignore the "appearance" of the mirror, as it will help beautify your bathroom space a lot.
2. Buy a stainless steel bathroom mirror with LED light NAVADO
At NAVADO we sell stainless steel LED bathroom mirrors which are very popular.
The mirror embryo uses genuine imported high quality AGC Belgian mirror material, meeting the strictest standards. Oval mirror design with soft rim. The stainless steel mirror bezel is a great waterproof material, which is super durable when used as bathroom sanitary wares, so you absolutely do not need to worry about the durability and longevity of this mirror product.
This stainless steel frame LED bathroom mirror has dimensions of 600 x 900 x 40mm, making it suitable for both small and medium bathroom spaces.
| | |
| --- | --- |
| Price range: | 500$ - 1000$ |