Buy now
(+84) 961 430 111-(+84) 327 247 111
Highlights of D50 LEATHER STRAP HOLDER MIRROR
D50 LEATHER STRAP HOLDER MIRROR
Bathroom mirror is not only an object to look at, to beautify, but it also has to elevate the level of your bathroom. The hexagonal bathroom mirror with leather straps is sure to surprise you.
1. Hexagonal bathroom mirror - impression comes fancy design
Bathroom decorative mirrors have many types, many different designs, but mainly they are transformed round mirrors, elliptical mirrors or square mirrors that are familiar with their faces. So are you ready for a unique hexagonal bathroom mirror?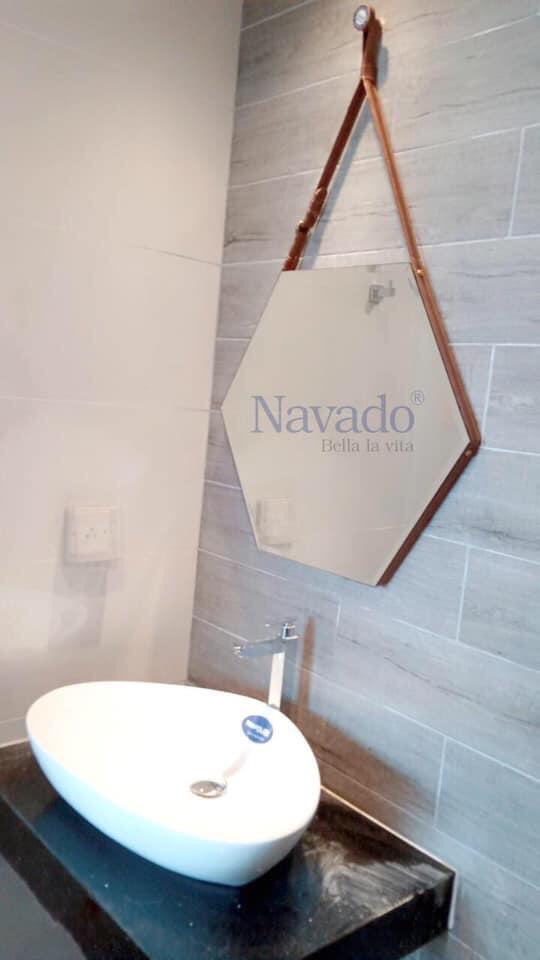 NAVADO's hexagonal bathroom mirror is made a Belgian mirror embryo that is already famous for its ability to resist dust, steam, shine and durability. In addition to the outstanding advantages of material, the quality of the hexagonal bathroom mirror is a breakthrough in design and design.
Hexagonal mirror wall mounted by personality leather strap adds a modern, youthful, new look to your bathroom space.
2. Buy cheap D50 hexagonal bathroom mirror with leather strap
If you compare the price of bathroom mirror on the market, this hexagonal bathroom mirror with leather strap is much cheaper. With high quality and unique design, the hexagonal bathroom mirror with leather strap is very suitable for houses, apartments, luxury apartments, luxury hotels, restaurants, ...
The hexagonal leather bathroom mirror has a warranty period of up to 2 years and a lot of incentives when buying. At NAVADO we have a very professional free home installation program in Hanoi, Danang, and Saigon. If you are in other provinces, just contact NAVADO, our staff will assist you with remote purchases with fast and safe delivery policy.
| | |
| --- | --- |
| Price range: | 500$ - 1000$ |