Buy now
(+84) 961 430 111-(+84) 327 247 111
Highlights of BATHROOM MIRROR NAV 101C
BATHROOM MIRROR NAV 101C
NAV 101C art mirror
Bathroom mirrors have long been an indispensable part of life. Along with development, human life requires beautiful and delicate mirrors. They help increase the beauty of the house instead of just for the purpose of illumination as before. To make your bathroom luxurious and classy, do not miss this artistic mirror NAV 101C!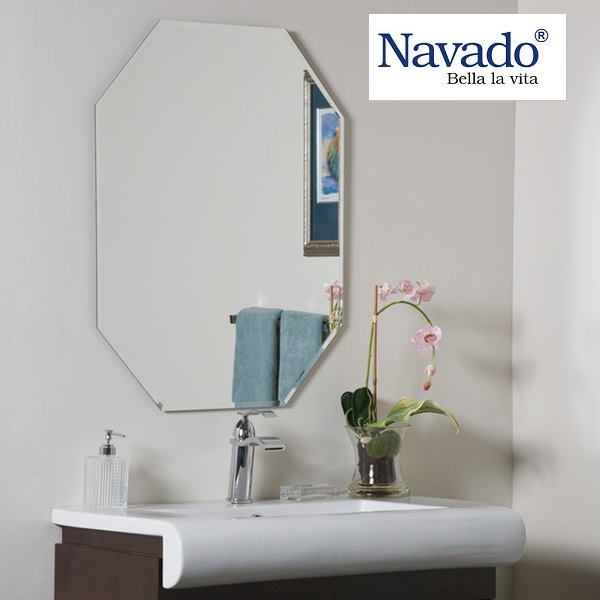 Over time, the bathroom mirror becomes a friend that is too familiar to us. With only a small mirror, but it helps people's life become more comfortable, modern, and aesthetic.
Why should you choose the Nav 101C Artistic Mirror?
With the mirror design bevelled by the skillful hands of the navado artisans meticulously through each corner, the AGC mirror ingot material, anti-stains, mold and anti-water vapor, is very durable over time. . Mirror compact size 600 × 800 × 5mm suitable for any space, especially the room with small area will make the room appear enlarged and bright. The octagonal mirror design is both simple, not too prominent, cumbersome, but still exudes an elegant and harmonious look for the space.
Nav 101C art mirror also gives very realistic, clear and distortion-free images, giving users a sense of confidence and enjoyment when looking.
Mirrors are shipped and installed at home free of charge by the company, prices are listed nationwide. Products are warranted for up to 2 years. Contact us now to order this wonderful product! We guarantee to make you satisfied with quality!
Navado - Your level!
| | |
| --- | --- |
| Price range: | 500$ - 1000$ |