Buy now
(+84) 961 430 111-(+84) 327 247 111
Highlights of ROUND MAKEUP MIRRORS NAV108C
ROUND MAKEUP MIRRORS NAV108C
Makeup mirror is one of the indispensable important furniture, especially in women's spaces. Before leaving the house, regular makeup will determine much of the mood of the next day, so a makeup product is not only necessary but also extremely important for women.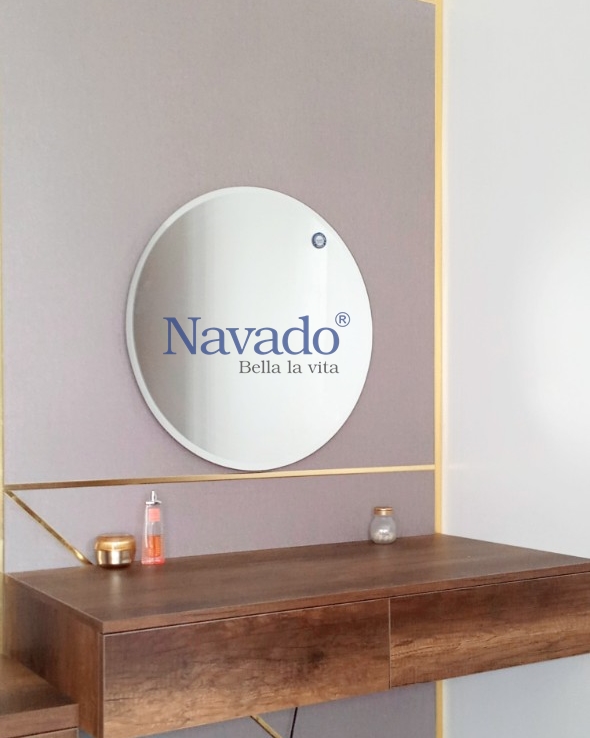 Round makeup mirror wall bed room
The circular beveled mirror next to the NAV108C is both modern, simple, soft and feminine. Considered the perfect model for hanging a vanity, mirror products with a shiny mirror surface will bring out the most beautiful and realistic images. Because the mirror is handcrafted by the skilled hands of the Navado artist, the curves are bevelled, creating gentleness for the product as well as the surroundings.
The NAV108C's round beveled mirror surface is made high-quality imported Belgian mirror embryo abroad, so it can bring the perfect mirror quality as well as the ability to reflect light to expand the space. The circular beveled mirror NAV108C is the perfect mirror product to make a makeup mirror and moreover, a decorative mirror that makes the space more fresh and modern.
Dimensions: 800x800x5 (mm)
- Color: Transparent mirror
- Features: Edge chamfering
| | |
| --- | --- |
| Price range: | 500$ - 1000$ |