Buy now
(+84) 961 430 111-(+84) 327 247 111
Highlights of MUSE MAKE UP MIRROR
MUSE MAKE UP MIRROR
In today's modern trend, art decoration models are a great choice. Not only has common effects, but it is also a great highlight in the space. Decorative mirror products Muse - Eternal Love is one of the products that meet the user's needs. If in the old days mirrors were only installed in the necessary places in the bathroom, ... nowadays mirrors can be installed in many places in spaces such as living rooms, bedrooms, ... for the simple ordinary mirrors of the day before.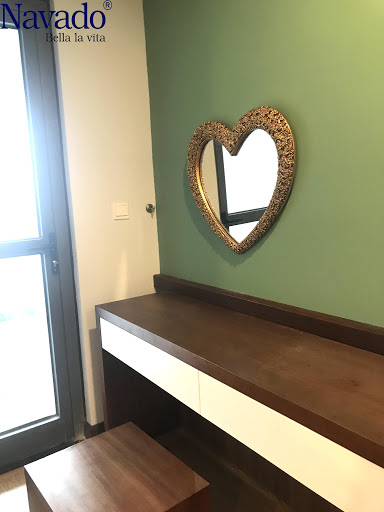 Muse decorative mirror is a high-end mirror product using wooden frame, 8-layer silver-coated mirror, 5mm thick.With the size: 650 x 580 x 40mm, weighs 4.5kg can be easily moved to change space. classical innovation helps the space become luxurious and creates a new warm feeling different the modern mirror. Suitable for families with many generations, classic style cafes, creating highlights for fashion shops, ...
The main color of the product is classic yellow that is easy to coordinate without being too fussy about space. If in large spaces, a decorative mirror will help create a highlight for that space. In contrast, for a small space, the mirror is to help open that space to become more spacious
Both an essential item and a decoration in the space, why not let Muse decorative mirrors be the first choice in your shopping cart?
Navado - Your level
| | |
| --- | --- |
| Price range: | 500$ - 1000$ |