Buy now
(+84) 961 430 111-(+84) 327 247 111
Highlights of MODERN LED RECTNAGLE MAKEUP MIRROR
MODERN LED RECTNAGLE MAKEUP MIRROR
The combination of led lights and makeup mirrors help you have a smart and extremely class 2-in-1 interior decoration product.
1. Mirror spot with 68 x 80CM led lights
Completely different traditional wall-mounted makeup mirror models, this frame makeup mirror with led lights of NAVADO brings you a new, delicate event, a mirror for a modern, young living space. middle.
Mirror with a rectangle of 80cm length, 60cm width is a standard size, suitable for many rooms and very easy for women to make up, daily makeup. The mirror embryo is made high quality imported Belgian AGC mirror material, giving a true and clear reflection image. When wearing makeup, women do not need to worry because the mirror raises the tone and deviates the color. The mirror has a frame with led lights with perfect white light, is a powerful assistant to help women look the most confident before going out.
Also thanks to the Belgian AGC mirror material which is coated with silver 8 layers, the ability to resist dust and mold is very high and the thickness of the 5mm mirror is good enough to make the mirror extremely long.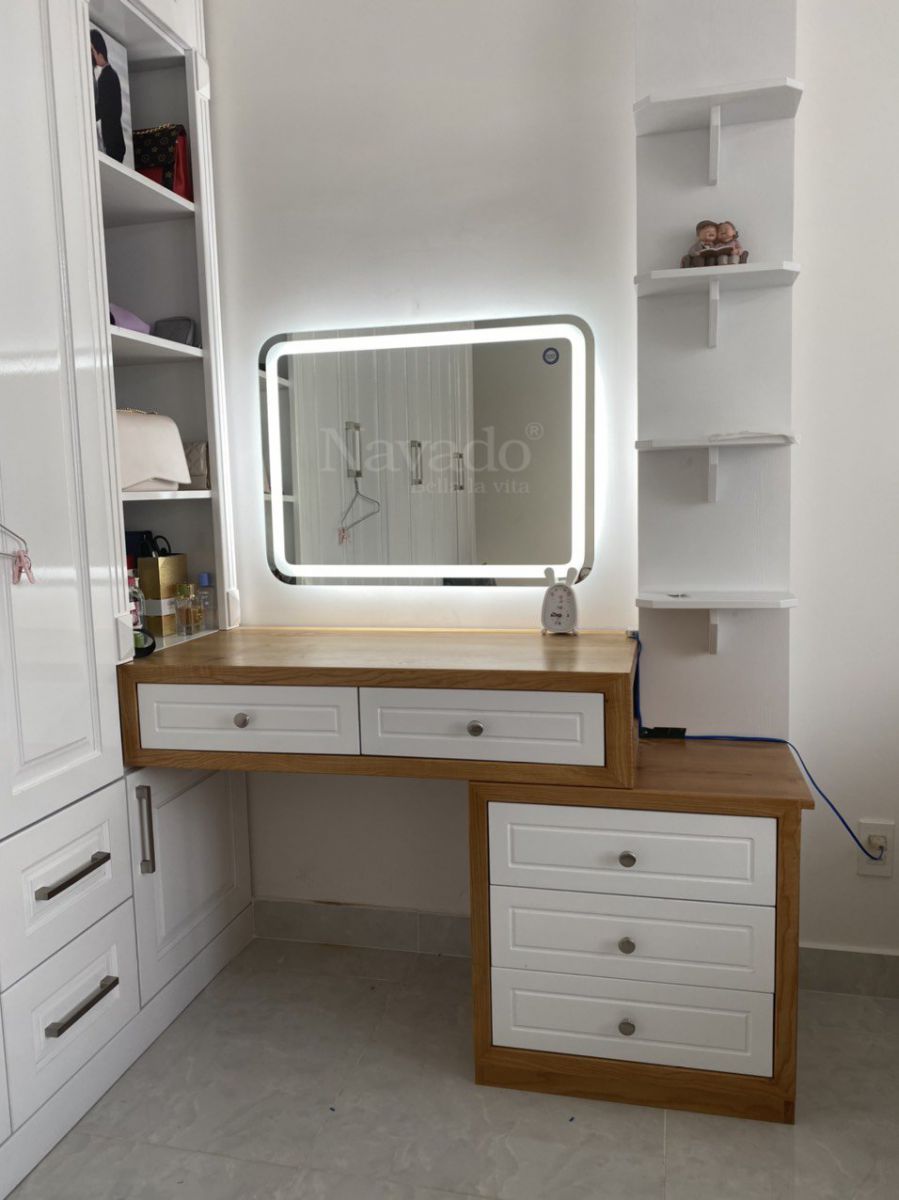 Modern led makeup mirror
2. Special offer when buying NAVADO led makeup mirror
All wall mirrors, makeup mirrors, and interior mirrors at NAVADO have a warranty period of up to 2 years. Giving customers reputable quality, ensuring confidence when choosing NAVADO is a home furniture item.
Not only that, when you buy the NAVADO led makeup mirror, you will be free to transport and install it at home in a professional manner. This offer is for customers in Hanoi, Da Nang, and HCMC. With customers in other localities, we support fast and safe product transportation, ensuring the best quality to customers.
| | |
| --- | --- |
| Price range: | 500$ - 1000$ |