Buy now
(+84) 961 430 111-(+84) 327 247 111
Highlights of MOIRAI FULL BODY MIRROR
MOIRAI FULL BODY MIRROR
Choosing to buy decorative wall mirrors for large spaces is also a difficult choice. A large room will need a larger mirror, more elaborate motifs, requiring you to pay attention to mirror material and mirror edges. If you are looking to buy a large mirror to decorate the living space, do not miss the Moirai wall mirror of NAVADO.
1. Moirai wall mirror products for living room, bedroom and large spaces
The outstanding feature of the Moirai wall mirror is the large-sized mirror and the exquisitely crafted and lavish edge of the mirror in the style of an ancient European aristocracy, so it is an art deco mirror. the most popular at NAVADO.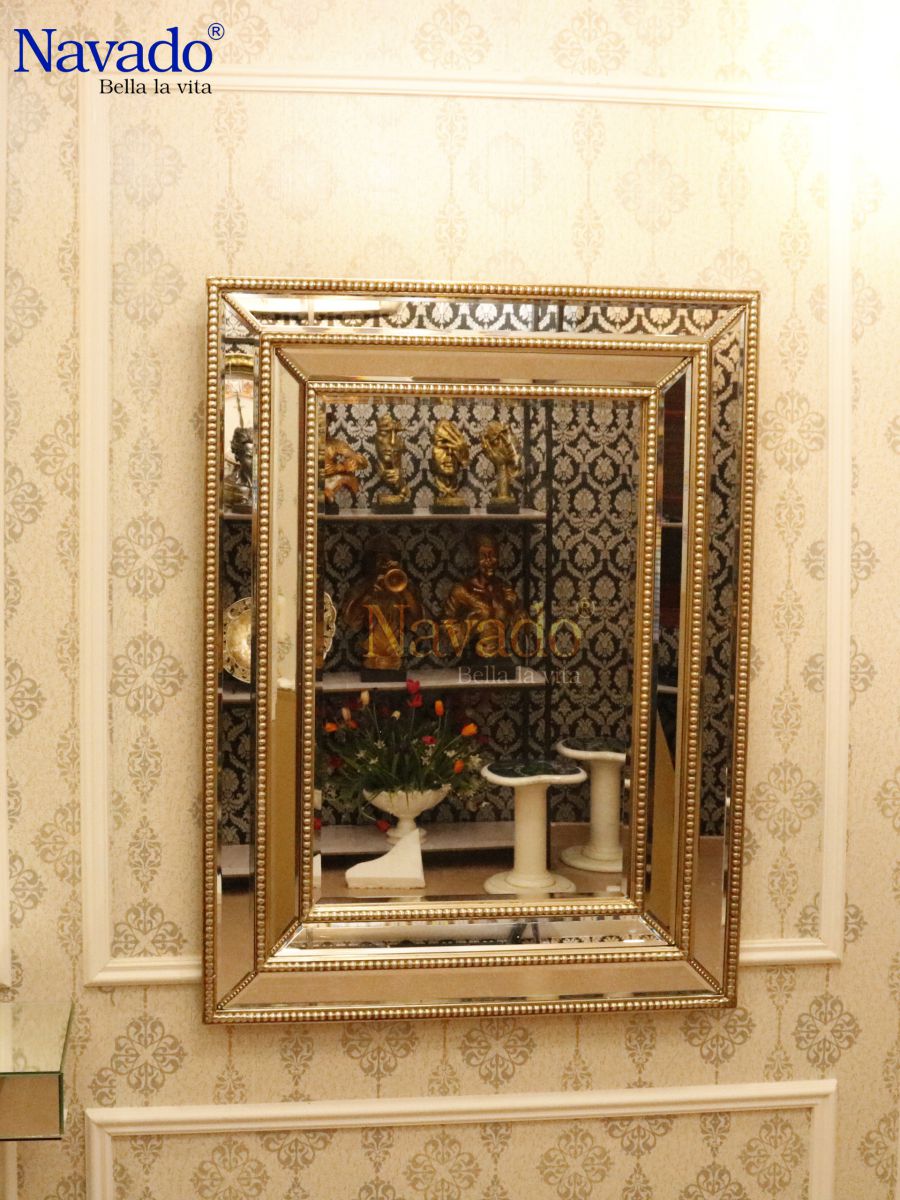 Moirai full body mirror decorate house
NAVADO Moirai wall mirror size is 1200 900 50mm for large space. The 3D mirror border creates a deep effect that makes the mirror more eye-catching. Transparent mirror for a sharp image, reflecting natural light makes the room brighter. The copper-yellow mirror border adds to the delicate aristocratic, luxurious and classic look of Europe in the sixteenth and seventeenth centuries. Surely this wall-mounted mirror will be the perfect piece of furniture, bringing a romantic, warm look to your living room, bedroom or reading room.
2. How to hang large mirrors firmly
For small wall mirrors, you can fix the mirror securely with a few small nails. But with a large wall mirror, you need to comply with safety rules when installing the mirror so that when using it, it is not very dangerous to fall. First of all you need to locate the mirror hanging on a solid wall and without electrical wires. Use a drill to create a hook that is strong enough to withstand the great weight of the mirror. Ideally, you should need 2 hooks on both sides of the mirror to both fix the position and for the wall mirror to be attached. Then you need to drill the wall and screw in the mounting points.
| | |
| --- | --- |
| Price range: | 500$ - 1000$ |