Buy now
(+84) 961 430 111-(+84) 327 247 111
Highlights of MIRROR MULTIPLAYER ROOM
MIRROR MULTIPLAYER ROOM
The dining room mirror is a modern, sophisticated design, bold aesthetic and delicate, giving your home a solemn, classic history. With sophisticated design, eye-catching, harmonious layout, reasonable colors combined with effects to create a perfect overall attracting the eyes of the viewer. The separation of the white diagonal lines quadrilateral mirrors creates an interesting, interesting feeling for the user. The mirror surface is made of clear, bright materials that help to improve in dimly lit spaces or with poor visibility. The brightness of the mirror combined with the intelligent design helps the image in the mirror become real as well as bring harmony to expand and enhance the value of your home space. This dining room model is the omission if it is not used for open and open spaces such as living room, kitchen in restaurants, hotels, ...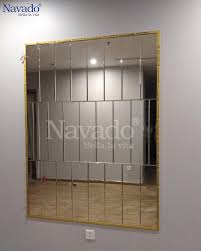 Why choose a dining room mirror for your cozy and cozy home?
Artistic mirrors are the architects' secret weapon in interior design. Going beyond the concept of being a mirror, a mirror also helps your home space become unique, impressive with the ability to decorate and deceive the eyes of the viewer artistically. Unlike other expensive and fussy accessories and interior decorations, mirror art is not only affordable but also has many trendy designs and styles to give your home a solemnity. , polite without losing the aesthetics, intimacy and intimacy. Mirror in general as well as mirror art in particular is still occupying an irreplaceable position in architecture and modern art. The dining room mirror is an indispensable design in your family. The mirror is used MDF wood material in combination with a modern, luxurious, elegant and environmentally friendly Belgian mirror
If you love and want to find and buy the dining room mirror, go to Navado - a supplier of mirror products of all kinds and the quality of the products verified by many customers.
Navado - Proud to bring great moments to your family!
| | |
| --- | --- |
| Price range: | 500$ - 1000$ |