Buy now
(+84) 961 430 111-(+84) 327 247 111
Guarantee
3-month warranty
Exchange 1 for 1 in 1 month if the manufacturer has an error
Highlights of LIVING ROOM ART MIRROR NAVADO-ATHENA
LIVING ROOM ART MIRROR NAVADO-ATHENA
The use of decorative mirrors has not been as unfamiliar to each family but choosing the mirror so beautiful, reasonable, is not a simple thing. Capture the need to use referrals to consumers 1 new and incredibly unique mirror product – the ART MIRROR OF the NAVADO-ATHENA LIVING ROOM.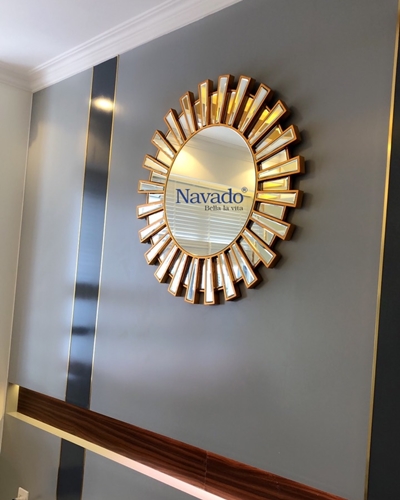 What is special in our products?
So why do we have to name the mirror "Athena"? Athena was 1 of the 12 gods at the top of Olympus, the goddess Athena as the representative deity for the power, wisdom, and guardian of Athens. With the desire to combine the art of the Ancient Greek civilization, the Navado artisans skillfully reshape the goddess's shield artistic mirror products to bring the wisdom and health to the home.
When using the LIVING ROOM ART MIRROR NAVADO-ATHENA will surely help your room become more luxurious, more class than ever. Moreover, it is an unforgettable highlight, which can not be missed with each visitor when visiting your house. In addition, the difference to make the brand in the product where I was the embryo material is imported 100% Belgium, machining directly in Vietnam and is silver to 8 layers will give users sharp images, to be honest, and minimize the adverse effects of the surrounding environment.
Navado-Your Class!
News about LIVING ROOM ART MIRROR NAVADO-ATHENA