Buy now
(+84) 961 430 111-(+84) 327 247 111
Highlights of MIRROR ROUND BATHROOM DECOR BATHROOM
MIRROR ROUND BATHROOM DECOR BATHROOM
Why choose round mirror hanging high-end bathroom decor?
With the design of Round Mirror hanging wire, bathroom decor has made people think of the round balls through the eyes, creating extremely beautiful and novel products, those things still bring a luxurious beauty. in which ... The designs are made Round Mirror hanging wire bathroom decor that art made materials of high quality Genuine Mirror. Aiming at bringing to consumers a product with a lot of value in it.
I. The outstanding advantages of the round mirror are the hanging wire of the high-class Navado bathroom
- The circular bathroom hanging mirror is made an obscure mirror of AGC firm - the mirror is always in the anti-mold and steam-resistant feature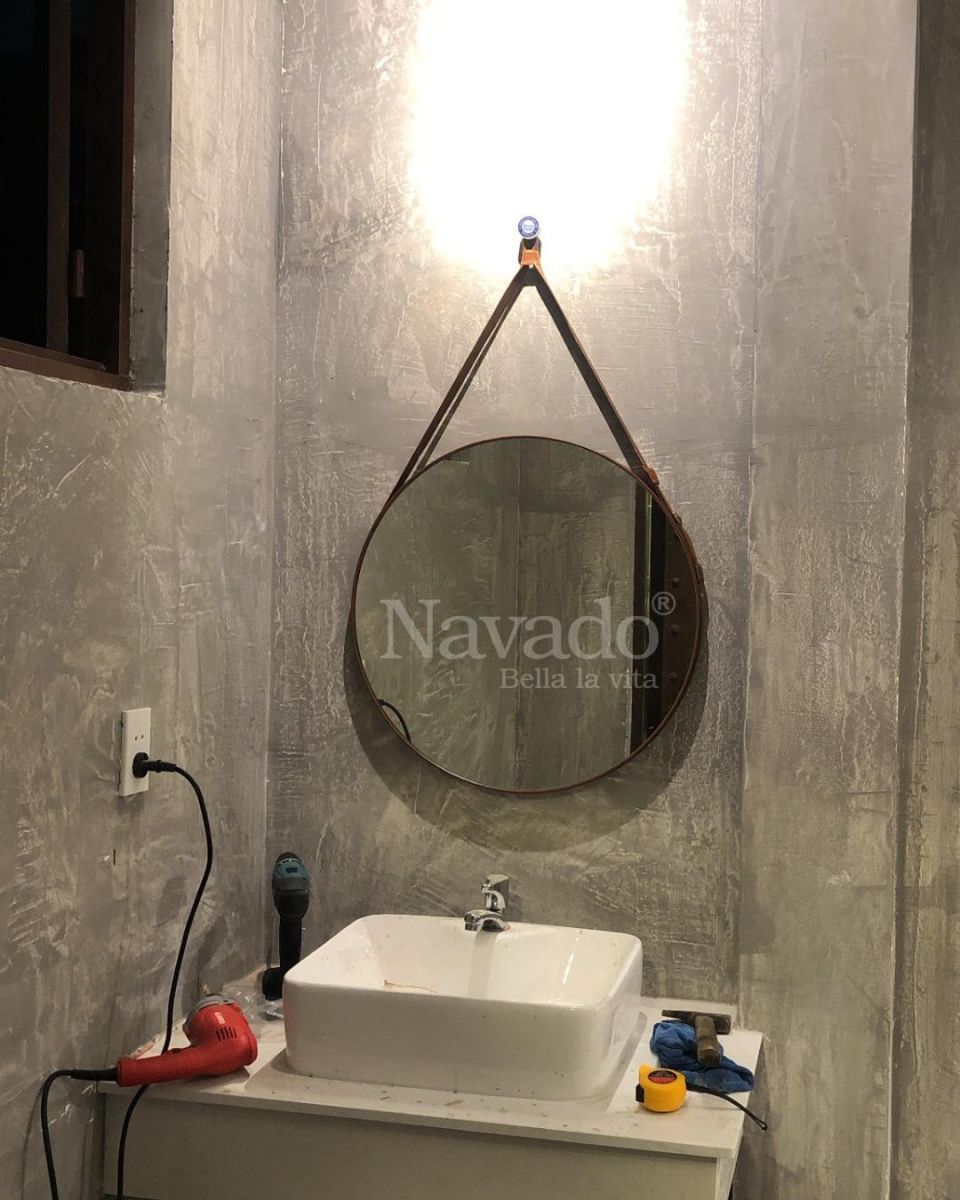 - Bathroom hanging round mirror is made of 3 basic materials - white mirror - High quality wooden frame - High quality leather strap against mold
- Bathroom round hanging mirror can be made to any size as needed 50cm, 60cm, 70cm, 80cm
- Round mirror hanging bathroom wire can design according to the architect's requirements for each specific design
- Round mirror with external bathroom cord can be fitted with mirror, which can be used for living room or bedroom and dressing table
- Round mirror hanging bathroom wire with a thickness of 5mm to prevent mold is warranted for 2 years
- Bathroom with hanging rope is shipped nationwide and has services installed in 3 big cities of Hanoi, Da Nang and Saigon.
II - Installation service for the circular mirror hanging wire bathroom decor like?
- Customers in big cities like Hanoi, Da Nang and Saigon are surveyed, designed and installed by the company.
- Customers are carefully designed and processed by navado company that only specializes in making mirrors, so the way of making and the specialized grinding lines is very beautiful and durable.
- Customers can choose the mirror installation time for houses with different time frames, so the company's service is very attentive.
- Customers have a 2-year warranty with all kinds of mirrors manufactured by the company lightless mirrors to led mirrors, because very few companies can guarantee such long LED lights.
III. Stylish design round mirror hanging wire bathroom decor
With a new modern design style, but still brings beauty and utility. It is not just a simple thing, but it has nurtured the idea to form a product like the Round Mirror hanging bathroom wire as today and create more to bring a new modern style.
IV. summary
With the above, the mirror of hanging wire bathroom decor up to now still has many that not all products are as noticeable as now.
The choice of products Round mirror hanging wire bathroom decor helps our house more beautiful and more meaningful. It's not difficult when we want them to go home ^^
| | |
| --- | --- |
| Price range: | 500$ - 1000$ |