Buy now
(+84) 961 430 111-(+84) 327 247 111
Highlights of Elisa bathroom mirror
Elisa bathroom mirror
Bathroom mirrors are an indispensable item in modern bathrooms, often you will come across plain mirrors with simple designs such as square, round, and traditional rectangles. However, when the life is increasingly enhanced, the need to pay more attention to the living space decoration, the ccuxng bathroom mirrors are more interested in choosing.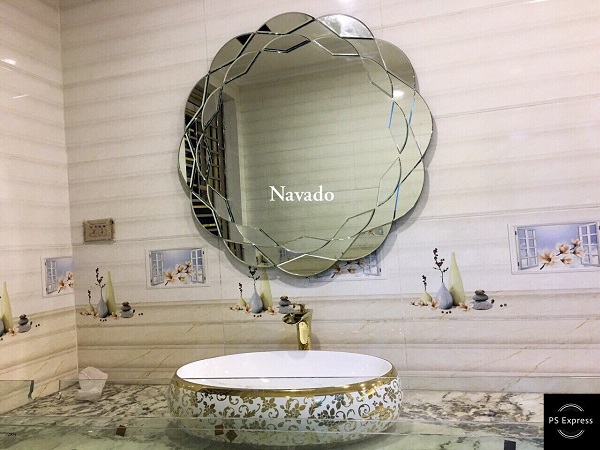 Elisa art bathroom deocrate mirror
Bathroom mirror in Elisa is one of the most prominent examples today. With a circular design but stylized by simple decorative motifs that are extremely beautiful, creating the unity and harmony between the bathroom and interior equipment. Mirrors are designed with modern European-style designs combined with the youthful and rustic Asian features.
This bold disruption with the mirror of Elisa contributes to a very fancy and impressive bathroom space.
Elisa bathroom mirror is designed to simulate the image of a flower in full bloom with petals intertwined. Each petal is a small mirror completely handcrafted by Navado artists to create the most natural and sharp for the work.
Mirrors Elisa is not only widely used in modern bathrooms, but also many homeowners choose to decorate the living room, dining room or bedroom. Mirrors are also used in many restaurants, hotels, spas ... to create a class for the space.
| | |
| --- | --- |
| Price range: | 500$ - 1000$ |