Buy now
(+84) 961 430 111-(+84) 327 247 111
Highlights of NATASA ART WALL MIRROR 90CM
NATASA ART WALL MIRROR 90CM
90cm Natasa art wall mirror is one of the interior decoration items that adorn your home more luxurious, brighter and new. Natasa mirrors are designed by Navado with simple details but create sharp accents in each detail, highlighting the decorative space.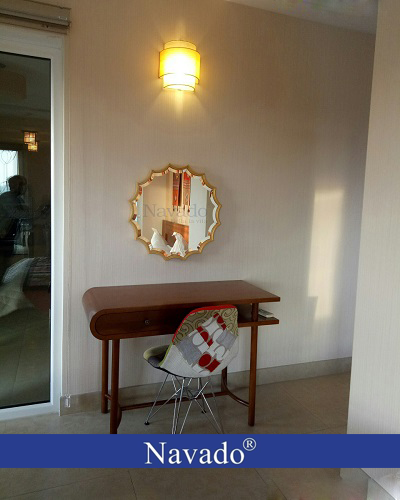 Natasa makeup beauty mirror
Natasa Art Mirror is an artistic mirror designed with a circular mirror structure; With the size of 90 90cm, suitable for hanging in every position in each room to create a balanced layout and create a prominent highlight for any decorative space.
Mirrors Natasa and other mirrors of Navado Vietnam Co., Ltd are manufactured mirror embryos imported Belgium to create high quality mirror products; Especially absolutely safe for the environment and users.
The special highlight of Natasa mirror art is the hand-grinded, convex polygon shaped edge design that creates meticulous lines to every detail highlight the elegance of the house.
Besides, with this design not only creates the aesthetic beauty of 90cm Natasa art mirror, but also makes the image reflected in the mirror deep, sharp and beautiful clearly. Natasa decorative art mirror is not only decorative mirror in living room space, dining room, hall, ... but also suitable for use as mirror, makeup mirror, ...
Each of Navado's mirror art products, when designed, strictly adhere to the high requirements on the uniqueness of the designs, the creativity in each product line, the quality of the mirror image. In addition, Navado also pays attention to the appropriateness of the spatial mirror design and some feng-shui factors in the selection and use of the client's mirror.
Note: 90cm Natasa Art Mirror and all genuine Navado branded mirror products are warranted for 24 months.
| | |
| --- | --- |
| Price range: | 500$ - 1000$ |