Buy now
(+84) 961 430 111-(+84) 327 247 111
Highlights of BASIC ELIP MAKEUP MIRROR WALL BEDROOM
BASIC ELIP MAKEUP MIRROR WALL BEDROOM
Elliptical or oval mirrors are familiar, but do not think using elliptical vanity mirrors will bring you boredom.
1-Trends in dressing table mirror selection
In the past few years, people have preferred to use leather wall-mounted vanity mirrors, circular mirrors or artistic stylized mirrors. But elliptical mirrors still affirm their irreplaceable position in architectural art.
Elliptical mirror is a type of traditional mirror, classic interior pattern that was loved by French architects and used a lot for bedrooms, living rooms, bathrooms, ... If you love the classic and simple then an elliptical vanity mirror will make you happy.
Not too fussy as stylized mirror models, elliptical mirrors bring harmony and gentleness with soft edges, creating a sense of familiarity and intimacy. With this simple shape, the elliptical mirror is suitable for all rooms, so you do not need to think too much or have a headache choosing the shape or material that suits your room or vanity.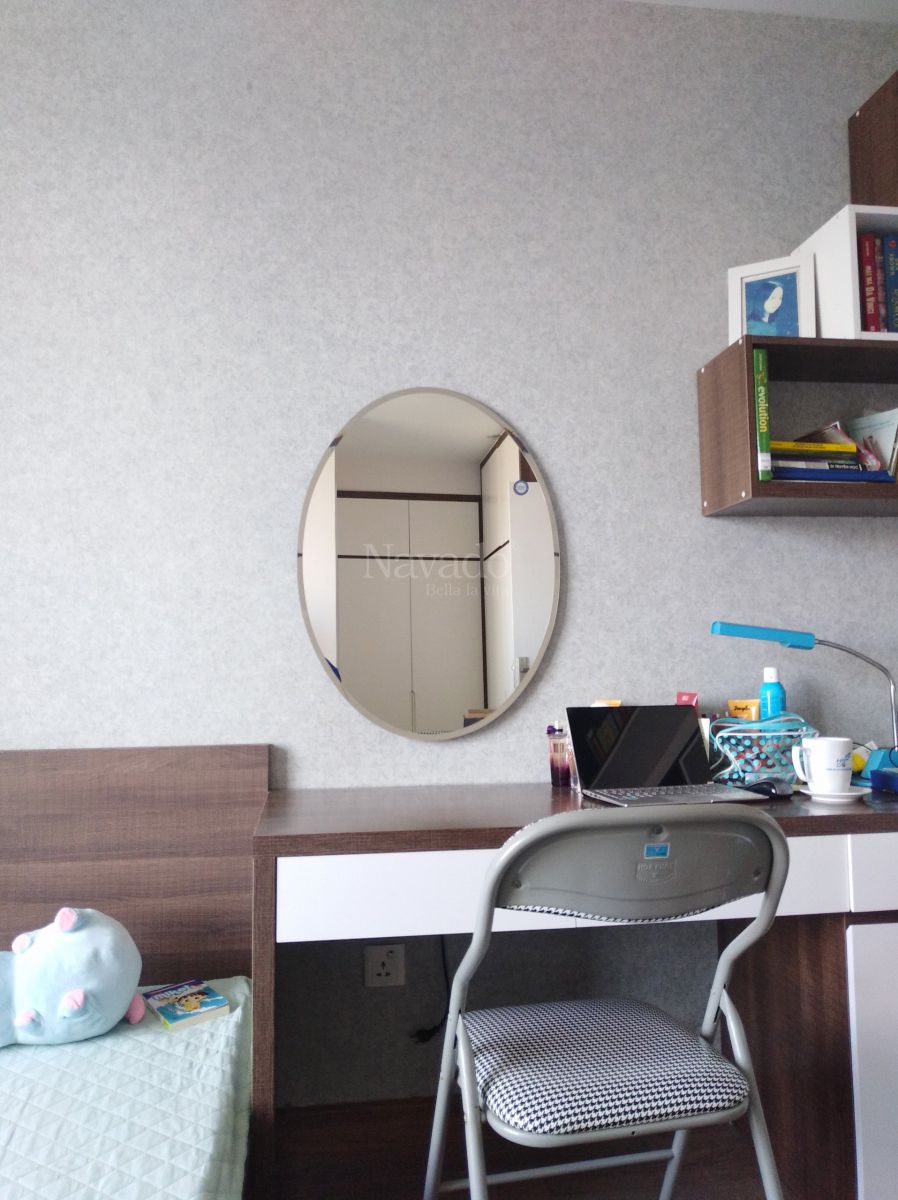 Elip basic makeup mirror
2-Buy an elliptical makeup mirror - choose the NAVADO mirror
NAVADO's elliptical makeup mirror uses high quality AGC Belgian mirror embryo, has good bearing capacity, is anti-staining and anti-water vapor effectively. Mirrors are handcrafted by hand grinders for a perfectly soft appearance.
If you are concerned that the elliptical shape is a bit monotonous, you can completely create an accent by using more LEDs, night lights or decorative accessories that you love. A traditional mirror shape will promote 100% of your artistic creativity.
The Belgian Navado mirror is a product certified to international quality by AGC Europe, produced in Indonesia and distributed in Vietnam. As an intellectual and creative product of MNG mirror group, Belgian Navado mirror fully meets 3 standards used in mirror testing: ISO 3768, ISO 3770 and DIN 500017.
With modern silver coating technology, Belgian mirror is the only type of mirror to overcome 4 factors of mirror damage, including: acetic acid, ammonia, salt and moisture. Not only for mirroring, Belgian Navado mirrors are also high-end artwork for living room, bathroom, outdoor etc.
The Belgian Navado mirror is the soul for every architecture!
| | |
| --- | --- |
| Price range: | 500$ - 1000$ |