Buy now
(+84) 961 430 111-(+84) 327 247 111
Highlights of CLASSIC MIRRORS OF HERA CLASSIC HERA
CLASSIC MIRRORS OF HERA CLASSIC HERA
Have you ever searched for a full-length mirror without having to worry about being rough because the size is too big?Are you looking to decorate the living room with a simple item that still magnifies the elegance of the room in the house?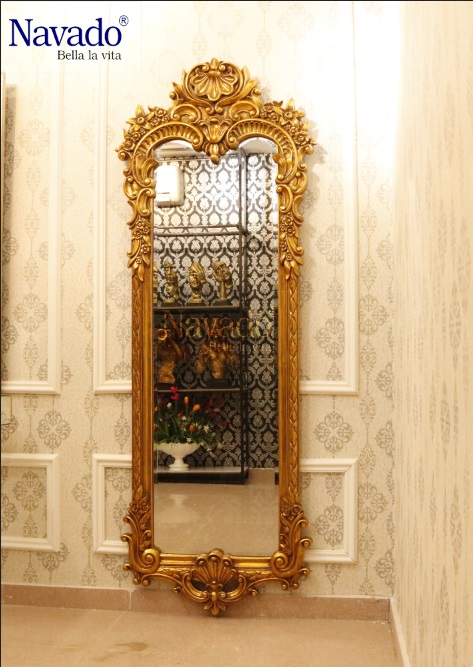 Neoclassical art is a style that is very common in most modern buildings, the Eiffel Tower to the decorations in the US Congress building.Neoclassical is the name of a trend of decorative arts, visual arts, literature, music and architecture inspired by Western classical culture and arts.And to bring that to every room of your home, Navado's High-End New Classical Body Mirror is a perfect choice.
Designed with high-quality AGC mirror material, mirror ingot imported directly Belgium, and meticulously and meticulously processed by leading Vietnamese machinists, Advanced New Classic Body Mirror has become become the leading trend in the domestic and foreign markets. With dimensions of 600 x 1800 x 50mm, our products are suitable for almost every room in your home. The rectangular mirror is edged with stainless metal, sprayed with yellow paint to bring a luxurious and classy look. The patterns in the edges of the mirrors are the most quintessential ​​in neoclassical art in the 18th century, representing the upper European elite at the end of the Renaissance.
High Quality New Classic Body Mirror will be an extremely unforgettable highlight for your home. In addition to the design meaning, for housewives, this must be a very unique and luxurious gift that still meets feng shui needs.
Navado - Your level!
| | |
| --- | --- |
| Price range: | 500$ - 1000$ |